OUR SERVICES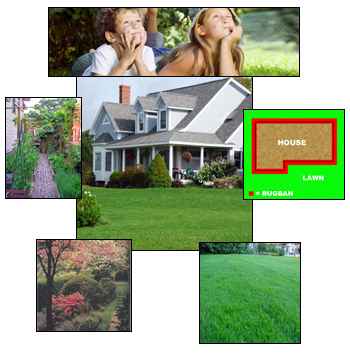 Perf-A-Lawn offers the following services:
Lawn fertilization programs
Pre-emergent crabgrass control
Broadleaf weed control
Grub control, preventative and curative
Surface insect control
Aeration
Seeding and renovation
Lime treatments
Fungicide treatments
Topdressing
Soil testing
Tree and shrub care programs
Pruning and shaping
Bug Ban exterior pest control
Vegetation control
Recreational land management
LAWN FERTILIZATION PROGRAMS
Perf-A-Lawn's fertilization programs use the best products available for outstanding results.  We use a combination of dry granular and liquid fertilizers to achieve the healthiest and greenest lawns.  A balanced fertility program is one designed to maintain a strong root system for nutrient uptake and robust leaf tissue for disease and drought tolerance.  Our basic program will fit the majority of our customers needs; however, a program can be tailored for specific needs at no additional cost.
PRE-EMERGENT CRABGRASS CONTROL
Crabgrass control is best applied in the spring with the first lawn fertilization.  We generally use a dry granular product for the majority of our pre-emergence applications.  Later in the season we will use liquid products as they will have some post-emergent capabilities.  Crabgrass is a most difficult weed to control once it is established.  Perf-A-Lawn uses the best products on the market to gain control of crabgrass even after it is established in a lawn.  Perf-A-Lawn does not charge for crabgrass control at any time of the year.  It is always part of your program.
BROADLEAF WEED CONTROL
Broadleaf weed control is applied with liquid products.  We use the most effective controls available.  We blanket spray our early summer and fall applications to provide the best weed control.  Blanket spraying will get even the small unseen weeds prior to them becoming a nuisance.  If you are on a full program and ever have an issue with weeds coming up between applications, call our office to set up a free service call.
GRUB CONTROL
Grubs are sub-surface insects that can cause extensive damage to a lawn.  Most grubs are spring and fall feeders.  They are the larval form of beetles, such as Japanese beetles, and they are prevalent in this region.  Perf-A-Lawn recommends a preventative grub control application be applied with the summer feeding. If you do get grubs Perf-A-Lawn will not only retreat the lawn but will repair any damage caused by grubs at no cost to the customer. 
Grub control is available at any time when grubs are present in a lawn.  The problem with treating grubs correctively is that they will have caused damage by the time they are found.  This will result in costly repairs and unsightly damage.
SURFACE INSECT CONTROL
Insects can cause extensive damage to lawns. Insects like Chinch Bugs, Sod Webworm, Army Worms and Bill Bugs are the most common. Full program customers who are scheduled for the grub preventive application are covered for for these insects as well. If insects are present in your lawn, Perf-A-Lawn will treat and control them at no additional cost to you.Our technicians are always on the look out for problems and will address them if they are present.
AERATION
Aeration is a mechanical process of removing cores or plugs from a lawn and leaving them on the lawn.  This service is a great way to alleviate compaction in the soil, reduce thatch and allow the grass root systems to expand.  The benefits to the grass plants include a stronger root system, improved nutrient and moisture uptake, thatch reduction, fewer insect problems and improved drought tolerance.  Annual aeration is advised on all heavy, clay-type soils to build stronger roots and control thatch.
SEEDING AND RENOVATION
Perf-A-Lawn offers seeding as well as renovation.  Seeding methods offered include over seeding, slit seeding and spot seeding.  Over seeding is simply broadcasting seed with a dry spreader and should only be done if the lawn is first aerated.  Soil and seed contact is necessary for germination and aeration creates enough soil openings to successfully germinate seed.  This process is the least costly seeding option and is most often used to boost an existing stand of turf grass or to incorporate a new grass species.  Slit seeding is a mechanical process using a seeding machine.  The slit seeder is a mower sized machine with cutting blades and a seed hopper.  The device cuts furrows into the lawn and drops seed into these cuts.  The seeding is generally done in two directions to cover the ground well.  This seeding option may be used to correct damage, seed bare areas or establish a new lawn.  The process is labor intensive, more costly and far more thorough than over seeding.  Renovation is slit seeding with complete kill vegetation control done prior to seed work.  The intention of this service is to replace an existing stand of turf grass with a new stand of grass.  Contact Perf-A-Lawn to discuss the best options for your situation.
LIME TREATMENTS
Lime is applied to a lawn to help correct soil ph.  A soil which is acidic will tie up nutrients and render them unavailable to the plants.  Lime applications gradually raise soil ph and in effect add nutrients to the soil.  This will improve color, density control thatch and increase root development.  The lime product used by Perf-A-Lawn also has some micro-nutrients added.  Lime treatments help all our services work even better.
FUNGICIDE TREATMENTS
Lawn diseases can cause damage to grass plants ranging from minor leaf tissue damage to complete death of vast areas of a lawn.  Many factors contribute to disease activity in a lawn including vulnerable species, drought stress, heat stress, poor soil, poor cultural practices and heavy traffic.  Perf-A-Lawn offers fungicide applications to combat lawn diseases.  We offer preventative applications with our "Program Plus Fungicides" and curative fungicides applied on an as needed basis.
The best way to fight disease is to prevent the stresses that cause disease.  Good watering and mowing practices along with proper nutrition are the foundation to controlling most disease activity.  Perf-A-Lawn will always first try to control disease with fertilization; however, some activity and conditions may require further action.  Please call our office to discuss the best option for your situation.
TOPDRESSING
Perf-A-Lawn offers topdressing services to athletic playing surfaces.  The topdresser is a mechanical device pulled by our tractor which drops soil or sand onto an area.  The purpose is to improve the soil composition and therefore improve the turf grass stand.  Contact our office to discuss the options and your needs.
SOIL TESTING
Fertility and ph are sometime beyond the acceptable range for growing a quality stand of grass.  Testing will allow us to learn what needs to be done to a stand of grass to achieve the very best results possible.  Perf-A-Lawn can test your soil for you.  We use an independent laboratory to test our samples and provide us with a breakdown of necessary adjustments.  Call Perf-A-Lawn to properly take samples and advise you on steps to get the most from your property.
TREE & SHRUB CARE PROGRAMS
Your trees and shrubs represent an investment worth thousands of dollars.  This landscape investment can continue to grow and increase in both value and beauty every year…when it is protected by Perf-A-Lawn's Tree & Shrub program.  Our program will provide basic care for your landscape including fertilization and insect control.  We can also customize a program or applications for specific plants or concerns.  We have a maximum treatment height of 25'.  Call Perf-a-Lawn for a free estimate.
PRUNING AND SHAPING
Proper pruning and shaping will enhance the health, vigor and appearance of plants.  Insects and disease activity can be reduced and controlled when plants are trimmed and thinned correctly.  We would individualize plants to slow overgrowth, remove dead and diseased limbs and also generally remove one-third of plants to prune.  Shaping is done to plants specific for their growth habits.  We can customize pruning and shaping work if necessary.  For a free quote please call our office.
BUG BAN EXTERIOR PEST CONTROL
Bug Ban is an exterior pest control application designed to control insects outside your home and to prevent their entrance into your home.  The program works well for many insects but especially well for spiders, ants, wasps and earwigs.  The season long program consists of 3 applications.  Perf-A-Lawn technicians spray a liquid material around the foundation, windows, doors and openings and under all overhangs and awnings.  Please call today to schedule an estimate.
VEGETATION CONTROL
Perf-A-Lawn offers a number of complete vegetation control services.  These range from controlling weeds and grasses in ornamental beds to commercial sterilant vegetation control services for gravel yards and right-of-ways.  We have specialized equipment to complete this work efficiently and effectively.  Most of this work is for commercial customers but we can provide these services for many residential applications.  Please call today with questions or to schedule an estimate.
RECREATIONAL LAND MANAGEMENT
Perf-A-Lawn is now offering limited services on recreational lands.  We can provide vegetation control, spray applications, fertilization, land management and seeding.  These services can enhance wildlife viewing opportunities, hunting success and conservation of native species.  Our equipment allows us to access a property off normal roads through our tractors and in some cases on ATV's.  Please contact us to discuss your needs and where we may be able to help enhance your recreational lands.